Jest kilka takich imprez w ciągu roku, na których gwiazdy pojawiają się w najpiękniejszych kreacjach i mimo, że stroje te nie mają zbyt dużo wspólnego z rzeczywistością, wciąż jest dla mnie wielką przyjemnością oglądanie zdjęć z czerwonych dywanów.
Jedną z takich wyjątkowych okazji jest Venice Film Festiwal. Uchodzi on za najstarszą imprezę w historii, pierwszy odbył się w 1932 roku. Dla mnie jednak to nie Złote Lwy i inne statuetki odbierane przez zwycięzców, lecz suknie i sukienki koktajlowe ubierane na konferencje prasowe są najważniejsze.
Dlatego też już zaczynam codzienne oglądanie coraz to piękniejszych kreacji i przygotowanie dla Was dużego postu złożonego ze zdjęć z wszystkich dni festiwalu.
Poniżej modowa uczta, nie tylko dla wybranych.
This year mistress of ceremonies, festival hostess - beautiful model Eva Riccobono at the Opening Ceremony And 'Gravity' Premiere In
Armani Privé
Sandra Bullock In J. Mendel at 'Gravity' Premiere
Sandra Bullock In Alex Perry at 'Gravity' Photocall
Carey Mulligan In a Miu Miu dress and Roger Vivier sandals at
Miu Miu Women's Tales screening
Mia Wasikowska In a Proenza Schouler dress from the pre-spring/summer 2014 collection at 'Tracks' press conference
Sophie Kennedy Clark In Stella McCartney at 'Gravity' premiere
Dakota Fanning In Elie Saab Couture at 'Night Moves' Premiere
Dakota Fanning In Alexander McQueen at 'Night Moves' Venice Film Festival Photocall
Moran Atias In Dolce & Gabbana at 'Gravity' Premiere
Natalia Borges In Fausto Puglisi at 'Tracks' Premiere
Natalia Borges In Fausto Puglisi at 'Gravity' Premiere
Francesca Cavallin In Barbara Casasola – 'Tracks' Premiere
Eva Riccobono In Armani Privé at 70th Venice International Film Festival Photocall
Eva Riccobono In Christian Dior at 'Tracks' Premiere
Mia Wasikowska In Nina Ricci at 'Tracks' Premiere
Jury Member Golshifteh Farahani In Pascal Millet at Venice Film Festival Opening Ceremony & 'Gravity' Premiere
Golshifteh Farahani In Valentino – Orizzonti Jury Photocall: 2013 Venice Film Festival
Ksenia Rappoport In Alberta Ferretti at Venice Film Festival Opening Ceremony & 'Gravity' Premiere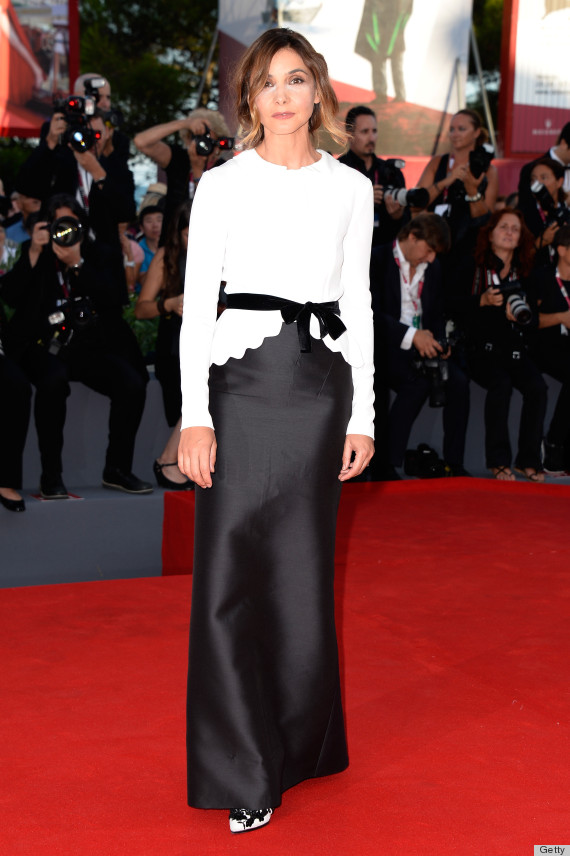 The wife of Prince of Venice and Piedmont, Clotilde Courau In Alberta Ferretti at Venice Film Festival Opening Ceremony & 'Gravity' Premiere
Chiara Ferragni at 'Gravity' Premiere
Director Gia Coppola in Saint Laurent at the 'Palo Alto' Premiere
Claudia Levy at the 'Palo Alto' Photocall
Gia Coppola in Proenza Schouler at the 'Palo Alto' Photocall
Dakota Fanning
Viktor & Rolf at Terazza Maserati during The Venice Film Festiwal
Judy Dench at the 'Philomenia' Premiere
Sophie Kennedy Clark In Stella McCartney at 'Philomenia' Premiere
He Wenchao at 'Philomenia' Premiere
Anna Safroncik In Alberta Ferretti at 'Philomenia' Premiere
Catalina Sandino Moreno In Emilio Pucci – 'Medeas' Photocall
Diane Kruger in Alberta Ferretti at Jaeger LeCoultre party
Scarlett Johansson In Sonia Rykiel & Roland Mouret – 'Under the Skin' Photocall
Scarlett Johansson In Versace at 'Under The Skin' Premiere
Model Elisa Sednaoui In Stella McCartney – 'Under The Skin' Premiere
Eva Riccobono In Valentino at Jaeger LeCoultre
Tenille Houston at 'The Canyon' Premiere